ខេត្ត​មណ្ឌល​គិរី​ ស្ថិត​​នៅ​ភាគ​ឥសាន​ នៃ​ប្រទេស​កម្ពុជា​ គឺ​ជា​ទឹក​ដី​សំបូរ​ទៅ​ដោយ ​ធន​ធាន​ធម្ម​ជាតិ​ ដែល​មាន​ចំងាយ​ផ្លូវ ​៣៨១,៩៤​គម ​ពី​ទី​ក្រុង​ភ្នំ​ពេញ​ដោយ ​ធ្វើ​ដំណើរ​តាម ​ផ្លូវ​ជាតិ​លេខ​ ៦​ លេខ​៧​ និង​លេខ​៧៦​ ឆ្លង​កាត់​ខេត្ត​កណ្តាល​ ខេត្ត​កំពង់​ចាម​ និង​ក្រចេះ​។ ​មណ្ឌល​គិរី​មាន​ផ្ទៃ​ក្រឡា ​១៤,៨៨គម២​ ចែក​ចេញ​ជា​ស្រុក​ចំនួន​ ៤ ​ឃុំ​ចំនួន​ ២១​ មាន​ប្រជា​ជន​ចំនួន​ ៦១,០៧​នាក់​ ដែល​រួម​បញ្ជូល​១៤ ​ជន​ជាតិ​ផ្សេង​គ្នា​ ហើយ​មាន​ទី​ក្រុង​ឈ្មោះ​ថា​ សែន​មនោរម្យ​។ ​ប្រជា​ជន​មាន​មុខ​របរ​ជា​កសិករ​ ដូច​ជា​ ដាំ​ស្រូវ​ ដាំ​ដំណាំ​ហូប​ផ្លែ​ និង​ដាំ​បន្លែ​ ឯ​ប្រជាជន​មួយ​ចំនួន​ទៀត​ ប្រកប​របរ​ដោយ​ធ្វើ ​ចំការ​ស្រ្ត័រប៊ឺរី ​កាហ្វេ ​កៅស៊ូ ​និង ​ស្វាយចន្ទី​។​ មណ្ឌល​គិរី​ មាន​តំបន់​ ទេសចរណ៏​ជា​ច្រើន​ដូច​ជា ​ទឹក​ជ្រោះ​ប៊ូស្រា​ ទឹក​ជ្រោះ​សែន​មនោរម្យ​ ទឹក​ជ្រោះ​រមនា​ ភូមិ​ភូតាំង​ ។ល។​
Day 1: Phnom Penh - Mondulkiri​
​

​
Morning:
-​Departure from BELTEI Tours & Travel to Mondulkiri province
-and you will be told Cambodian history and geographical region by tour leaders​
-​Having breakfast in the local restaurant
-​Continue to Mondulkiri province
-​then having lunch at a local restaurant in Snoul, Kratie province
Afternoon:
-Enjoy photography with a beautiful view of Tragorl mountain​ and Pu Tang village in order to know about how to miniority lives such as Krung, Charay, Tom Poun and Phnong
-Then visit Oromes resort which is the most beautiful view
-and have lunch and dinner there
-then transfer to the hotel and overnight
​Day 2: Mondulkiri - Busra Waterfall

​
Morning:
-​After breakfast at Mondulkiri restaurant​
-Continue to visit Busra waterfall which has a very nice view in Mondulkiri province and tea or coffee farm of the resident
-then transfer back for having lunch at Mondulkiri restaurant
-​Back for relax
Afternoon:
-​Continue to visit wooden sea which is the tremendous landscape for attraction and Dos Kra Muk mountain, then having dinner at Mondulkiri​
-​and transfer to the hotel at night
Day 3: Mondulkiri - Phnom Penh
Morning:
-After breakfast in Mondulkiri restaurant​
-​Continue to visit Sen Monorom market and photography at beautiful view which is surrounded by pine trees
-Continue to Snoul district and taking very nice photography at Pi Thnou stupa as the souvenir
-After that, have tasty lunch at restaurant in Snoul district of Kratie province
Afternoon:
-Come back to Phnom Penh city by pleasure time.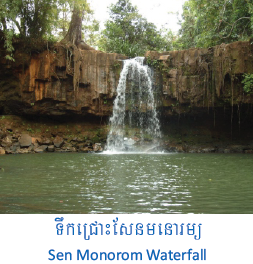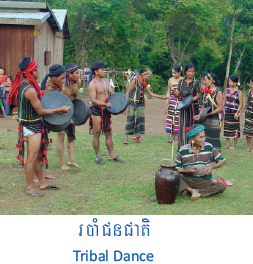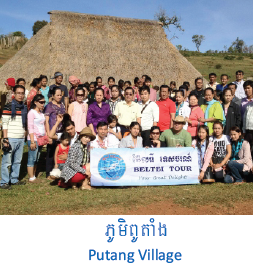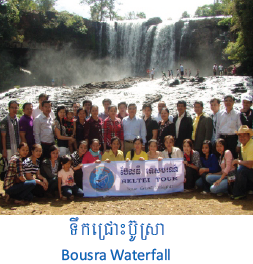 For detail information please see the booklet below!!!